Google Adwords - Made Simple




Get up to £70 worth of Google® AdWords® credit when you purchase certain products.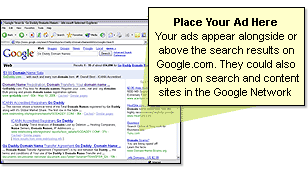 Increase traffic to your Web site with Google® AdWords® -- FREE with your purchase! Google® AdWords® makes it easy to reach potential customers already searching the 'Net for information about your products and services.

Simply create your own ads, choosing keywords that help Google match the ads to your audience. You pay only when someone clicks on them. Your ads appear not only on the Google search results pages, but also on the search and content sites in the entire Google Network. AdWords® really is the best way to send targeted visitors directly to your site.

Order any eligible product and log onto "My Account" to redeem your promotional advertising credit.



Promotional credit must be applied to a new AdWords account within 15 days of account creation and is valid only for new Google® AdWords® customers with self-managed signup accounts. Advertisers will be charged for advertising that exceeds the promotional credit. Advertisers will need to suspend their ads if they do not wish to receive additional charges beyond the free credit amount. Subject to ad approval, valid registration and acceptance of the Google® AdWords® Program standard terms and conditions. The promotional credit is non-transferable and may not be sold or bartered. Offer may be revoked at any time for any reason by Google Inc. One promotional credit per customer. Advertisers with self-managed signup accounts are subject to a £2.81 activation fee. Offer valid only for sign ups through the URL provided for the promotion. Expires end of current month.




---
Your Dream is our Vision




Price Guide & This Months Offers

This months Internet Solutions are the best we have ever offered and are only available to clients shopping in our verified secure online store. Here are some prices to wet your appetite.

Private registration of domain names from £1.25 or free when you register 5 or more domain names. Bulk registrations or bulk domain name transfers are welcome and you get a FREE Blogcast with every domain name transferred to our service.

Domain Names from* £1.50, Web Design from* £2.50 p/m, eCommerce from* £5.90 p/m, Internet Marketing from* £11.90 per year, Blog & Podcast from* £1.99 p/m, Web Hosting from* £2.50 p/m.

All services are compatible with Google Adwords and most come with FREE google Adwords credits.

Feel the Magic!

*

Click through to our Award Winning Verified Secure Online Web Store for details of our amazing automated Web site solutions.
---

On-Line Shop | Contact Us | View Site Map