Dedicated Server Hosting

- Made Simple




What is Dedicated Web Server Hosting?

Unlike normal hosting plans, which put many customers' accounts on a single server, a dedicated server is reserved exclusively for the account and usage of a single customer. This means that the dedicated server customer has exclusive rights to their server's bandwidth, memory, and storage space, and performance is not affected by traffic and the usage patterns of other customers.

When you purchase a dedicated server, you are actually leasing a server box that is configured and set up according to your preferences, but remains at our data centre.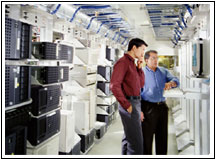 A dedicated server account provides you with a dedicated IP address and full control of server usage and software installation, with admin (root) access to the server.

You can use a dedicated server for a wide variety of purposes, including gaming servers, database management, and traffic-intensive Web sites. Dedicated servers are particularly useful for companies and individuals who run very-high-traffic Web sites or applications and who need the bandwidth, versatility, and consistent performance of a dedicated box.




Dedicated Server Specifications





The ultimate in performance and server control



Minimum Specification: Intel® CoreT2 Quad, CoreT2 Duo, Pentium® or Intel Celeron® processor
Up to 2 X 300 GB disk drives
Up to 2,000 GB bandwidth
Up to 4 GB RAM
Full admin access

Click this link to find out more about the worlds most powerful Dedicated Hosting Servers now.
---
Your Dream is our Vision




Price Guide & This Months Offers

This months Internet Solutions are the best we have ever offered and are only available to clients shopping in our verified secure online store. Here are some prices to wet your appetite.

Private registration of domain names from £1.25 or free when you register 5 or more domain names. Bulk registrations or bulk domain name transfers are welcome and you get a FREE Blogcast with every domain name transferred to our service.

Domain Names from* £1.50, Web Design from* £2.50 p/m, eCommerce from* £5.90 p/m, Internet Marketing from* £11.90 per year, Blog & Podcast from* £1.99 p/m, Web Hosting from* £2.50 p/m.

All services are compatible with Google Adwords and most come with FREE google Adwords credits.

Feel the Magic!

*

Click through to our Award Winning Verified Secure Online Web Store for details of our amazing automated Web site solutions.
---

On-Line Shop | Contact Us | View Site Map